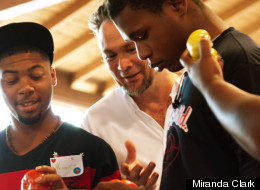 40 works of art and two specialty hogs: that's what guests will have a chance to bid on in a silent auction Saturday to benefit a new venture in Detroit's Eastern Market neighborhood.
That inclusivity is a testament to the way food, art, job training, culture and pleasure intersect at Market Studio Kitchen, a small, experimental school founded by Leon Johnson. Johnson is an educator, artist and chef living in Eastern Market.
MSK teaches cooking and nutrition basics in a larger context that celebrates eating and examines the connectivity of our food system. In its first stage, the school has had its first three classes, three weeks each with 45 students total. MSK paired with North Oakland Vocational Association, an organization that provides skill building and job training programs to individuals with developmental disabilities.
"One of the first priorities when we started laying out the vision is that we would not prescribe a curriculum," Johnson said. "So for the last nine weeks we were learning from them, based on questions and [their existing] food narratives."
For many of them, using knives, preparing simple dishes and even buying food were new experiences.
"None of them recognized an avocado, or held a tomato," Johnson said. "One of the questions we got from [student] Cherelle Hasberry is, 'This what's on a McDonald's [sandwich]?'"
Students were exposed to the process that puts food on their plate, learning necessary skills along the way. They received budgets and went shopping at Eastern Market, where they met farmers who grew the vegetable they used when making salsa and guacamole.
At each step along the way, conversations addressed the larger role of food and its place in their lives. Rather than follow the recipe for salsa to the letter, they were encouraged to make changes with their team, take ownership over what they created and think about who they would be serving it to.
"There was a whole bunch of vegetables I've never heard of," said Marcel, a 16-year-old who was referred to NOVA by a Children's Center program that he credits for helping him deal with anger and social issues. "Learning a way to cook, it's a great opportunity. I'm going to cook for my mother, my aunt."
"A core principle of Market Studio Kitchen is how fast can we turn it around," Johnson explained. "So their application can be turned around within 24 hours."
Marcel went home after his first day and attempted to cook one of his favorite foods, french fries.
Johnson, who seeks to show the pleasure involved in food said he was surprised, and inspired by how fast students who had little experience "got it."
"The biggest a**kicker was how easy it moved into ownership," he said. "And then a kind of terror kicks in because how is this possible to sustain in the rest of flowchart that constitutes their lives. They got into a van at 3 o'clock and went into other systems that were calibrated differently."
Each three-week class ended with a pop-up restaurant, where students learned the roles of restaurant workers, designed menus and thought about decor. The immersive experience prepared students to work with food, as well as teaching them social skills and boosting confidence.
"I want to get a job [at MotorCity Casino] and show them what I can do," said 34-year-old LaToya Webster.
Clara Hasberry came to the pop-up restaurant for her 23-year-old daughter Cherrelle Hasberry's graduation.
"I was hoping she could take on some healthy skills, how to cook fresh vegetables, how to shop," Hasberry said about her daughter, who lives with her and has Asperger's syndrome. "She knows everything about a computer, but the social skills … when it come to people she can shy away."
"When she came to the table and said, 'May I take your order,' I almost hit the floor," Hasberry said.
Source: huffingtonpost.com